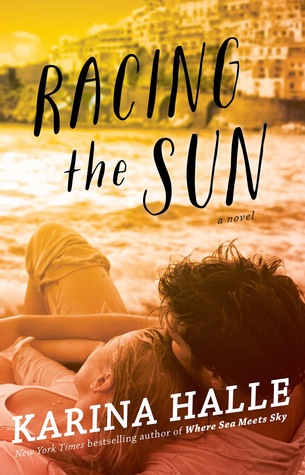 Original title: Racing the Sun
Year published: 2015
Published by: Atria
Number of pages: 336
First sentence: –
Plot: It's time for twenty-four-year-old Amber MacLean to face the music. After a frivolous six months of backpacking through New Zealand, Australia, and Southeast Asia, she finds herself broke on the Mediterranean without enough money for a plane ticket home to California. There are worse places to be stuck than the gorgeous coastline of southern Italy, but the only job she manages to secure involves teaching English to two of the brattiest children she's ever met.
It doesn't help that the children are under the care of their brooding older brother, Italian ex-motorcycle racer Desiderio Larosa. Darkly handsome and oh-so-mysterious, Derio tests Amber's patience and will at every turn—not to mention her hormones.
But when her position as teacher turns into one as full-time nanny at the crumbling old villa, Amber finds herself growing closer to the enigmatic recluse and soon has to choose between the safety of her life back in the States and the uncertainty of Derio's closely guarded heart.
My thoughts: *SCREAMS* Oh my fucking God, you guys! I never thought that Karina Halle could write a leading man that had me falling harder than Mateo did in Love, In English but she fucking did it! Damn! *takes deep breath* okay, I'm okay…
So…. I mean you guys know that I love everything Karina Halle, right? Her books always make me feel things… But damn, she really outdid herself with this one. This book follows Amber, who we met in Where Sea Meets Sky as she tries to make some money in Italy… Seriously I don't even know how to write this because WOW. But I'll try.
As with WSMS the world building is just WOW. I mean she doesn't build her own world but she might as well have. I felt like I was there, I could smell the lemons and hear the ocean and feel the heat. I really want to go to Capri after reading this book. Karina always manages to awaken my wanderlust and the list of places from her books that I wanna visit just keeps getting longer.
And then there are these amazing characters who you just fall in love with. Amber reminds me so much of myself, she's insecure about how she looks, her hair is untamable and she's grown up with a dad who hasn't exactly told her that she's worth much. I relate so much to her that it's almost scary. Amber is the kind of character who you want things to go well for because they've deserved it after all the shit they've been through, y'know?
Amber goes to Capri to teach English to seven year old twins. Now these twins, Alfonso and Anabella (spelling?) are real brats at first, which is kinda understandable since they lost their parents. They get a lot nicer as the story progresses and they become this weird family.
Amber meets an American girl at a pub and the bond over the fact they're both American. Shay is a really nice person with some baggage of her own. She's getting her own story, Bright Midnight releases sometime next year.
Last but definitely not least we have Derio. Oh my God, Derio. I fell in love with Derio as soon as Amber saw him out on that patio and he was all grumpy. But he too evolved and he opened up to Amber about his life and his fears. It's like he became a new person entirely and I just love him. Really I do. I can't help it. His and Amber's love is just… It's the kind of love that everybody should have, the kind of love that everybody deserves to have. The help each other grow and face there fears. Also he's hot, which of course is the reason I fell instantly in love with him, haha. Enough about the characters.
Towards the end of this book there's this entire event that had me in tears. I bawled my eyes out and then it was over. And I was left with this empty feeling inside, like what am I supposed to do now? How am I supposed to go on with my life after this book? How am I ever gonna be able to read anything else? Karina's advice was to have some wine, which I didn't have… *cries*
Okay, so this review is really messy because I have no control whatsoever about my feelings towards this book. I really did love it and I'm (not so) patiently awaiting the release of Bright Midnight next year.